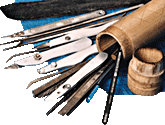 I use different kinds of materials to create my objects, but in the end they all have one thing in common: Light. Light makes them what they are and brings out their beauty.
Only light can bring out the transparency and shimmering color of an opalescent glass lampshade. A photograph is a split second of light, forever captured.
The right light gives woodcarvings more texture and depth, adding an aesthetic dimension otherwise impossible to achieve.
I became fascinated with light when I was very young and I found ways of using it in my work. I learned to understand and master it and use it in very different ways to highlight my creations.
Read more...
Collect your inquiries by
Marking
objects of interest. You will receive email with prices and delivery information..